Currently viewing the tag: "Moscow"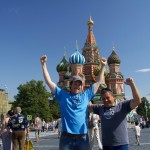 On
October 8, 2011
By
Zach
My introduction to Russia was through Moscow. I flew into the Domodedovo Airport, met Vlad, and we jumped on the Airtrain into the city center. The 45 minute Airttrain ride was my first opportunity to actually hear people speak Russian which is an impossible language to understand. I loved looking out the window at the […]
Continue Reading

→
Contact Us

Please call us at (541) 386-2271 or email us at info@raftsiberia.com to book a trip or if you have any questions.