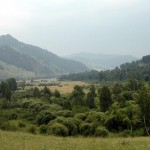 Our green S7 took off from a hot and humid Beijing. It was full of Russians who had come to China to buy cheap stuff. Surprisingly, I did not see any drunk, rowdy Russians, so I closed my eyes in hope of taking a 5 hour nap before the long drive to the river. In […]
Continue Reading

→
We will start and finish our Sayan Oka river trip in one of the nicest cities of Siberia – Irkutsk. It is the gateway to the rivers of the Eastern Sayan Mountains and regions surrounding Lake Baikal.
Irkutsk began as a tiny fortress in 1661 at the confluence of the Irkut and Angara Rivers. […]
Continue Reading

→
On
December 28, 2011
By
Zach
We're starting to plan for next summer's rafting trips on the Sayan Oka River and came across these videos you might enjoy.
The first one has some great music and a couple of traditional Russian catamarans running some of the bigger rapids.
Heere is some video of a flip at Okinskij (Oka) Rapid.
[…]
Continue Reading

→
On
November 8, 2011
By
Zach
Adventurer Yuri Klaver has just returned from a remarkable solo-expedition into the far east of Siberia. With a kayak he travelled over the Russian Indigirka River from Oymyakon to Belaya Gora, nearby the Arctic Ocean. In 45 days he covered a distance of 1000 kilometers and was the first westerner to climb the high Porozhny […]
Continue Reading

→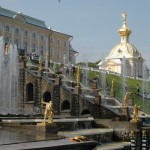 On
October 31, 2011
By
Vlad
I love this city. I first visited with my parents when I was eleven. Its museums (Hermitage, Russian Art, St. Isaac Cathedral, Navy, Zoology), theaters, stunningly beautiful architecture all had a huge impact on me even at this age. Later I visited Leningrad many more times. I spent 5 years there as a student of […]
Continue Reading

→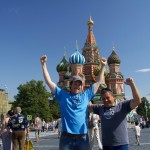 On
October 8, 2011
By
Zach
My introduction to Russia was through Moscow. I flew into the Domodedovo Airport, met Vlad, and we jumped on the Airtrain into the city center. The 45 minute Airttrain ride was my first opportunity to actually hear people speak Russian which is an impossible language to understand. I loved looking out the window at the […]
Continue Reading

→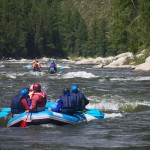 On
September 28, 2011
By
Vlad
About a year ago Zach and I drove home after our traditional Tuolumne river trip and talked about our plans. As always I pressed him with my idea of running rivers in Siberia. Zach was probably tired after our trip or just relaxed before the dinner with some vodka in my house because suddenly he […]
Continue Reading

→
On
September 25, 2011
By
Zach
This summer we did a 12 day expedition to the Kaa-Khem in the Tuvan region of Siberia. It was a wonderful trip through an untraveled country. Here are some of our photos:
Continue Reading

→
On
September 24, 2011
By
Zach
For next year we're planning a trip to the Sayan Oka River in the Sayan Mountains of Siberia. Below is video from another trip there.
Part 1 of 3
Part 2 of 3
Part 3 of 3
Continue Reading

→
Contact Us

Please call us at (541) 386-2271 or email us at info@raftsiberia.com to book a trip or if you have any questions.