Whitewater Rafting on the Chatkal River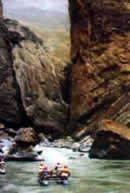 The Chatkal River is located in the West Tian' Shan' territory of two former Soviet Republics: Kyrgyzstan and Uzbekistan. Many whitewater rafters are attracted to its transparent water, amazing beautiful rock canyons, exciting rapids, wonderful wilderness, and warm weather. The Chatkal is a large volume river with an average flow of 3000 to 4000 cfs.

Whitewater rafting on the Chatkal River is unique due to its five breath taking canyons and amazing whitewater. The first, third, and fifth include strikingly beautiful, rocky passages. Downstream of the Chatkal are wild gardens with apple, walnut, and plum trees. You will have a great opportunity to introduce yourself to a unique Central Asian culture and meet extremely friendly local people.
Trip Itinerary
Day 1:
Departure from Moscow to Uzbek city Namangan. Spend the night is in the Hotel "Namangan Dustlik."
Day 2:
Transfer from Namangan to Osh and further to the border check point "Dustlik." You will spend the night camping in tents.
Day 3:
Transfer by mountain road to the first canyon of the Chatkal River. Prepare for the rafting trip.
Days 4 to 5:
Rafting down the Chatkal River. We will run through four beautiful canyons and enjoy class III and IV whitewater rapids.
Day 6:
A day to rest and relax. You may take an easy mountain hike or perfect your "river yoga."
Day 7:
We will run numerous exciting Class III to IV+ rapids including the famous Class V Khargush Rapid.
Day 8:
A day to rest and relax. You may take an easy mountain hike or perfect your "river yoga."
Day 9:
Rafting through the fifth canyon and the rapid Slalom. We finish the trip and depart to Tashkent, the capital of Uzbekistan by bus which will take about 3 hours. We will stay the night in the four start Hotel Bumi-Tashkent.
Day 10:
Departure from Tashkent or optional five day tour to ancient cities Samarkand and Bukhara. This extended tour is an additional $1050.
Tour Includes:

Travel beginning in Namangan and ending in Tashkent

Park fees

Transfer to Airport

Two nights hotel accommodation
Notes:

Scheduled trip date: September 9 - 18, 2007.

We can run a Chatkal whitewater rafting trip at any time of the season with a minimum of six participants. If a specific trip date has fewer than six participants the tour price may be increased.