Vlad's Book - Rivers of an Unknown Land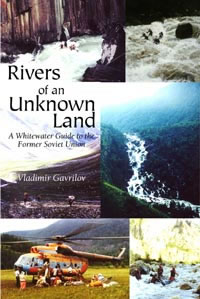 Vladimir Gavrilov describes the rivers of the former Soviet Union in this guide to rafting and kayaking in Asia. The book is the only available guide to the rivers of the former Soviet Union. It includes a review of the major rafting regions of the former USSR: Russia, Ukraine, Georgia, Tajikistan, Kyrgyzstan, Uzbekistan, and Kazakhstan. Readers will find very detailed descriptions of about forty class IV to V+ rivers and general description of about one hundred more.
The book contains many maps and color photos as well as descriptions of each whitewater run as well as information about how to approach the remote regions and peculiarities of traveling in these countries. It is a necessity before planning any paddling trip to this "unknown land."
The book is available for $23.90 online via PayPal.